COLOUR RUN | GET THE SCOOP
Fashion
29 September 2021
I don't know about you, but the various lockdowns we've worked through over the past couple of years have had a pretty big impact on the footwear I'm wearing – whether I'm working from home or back in the office.  It seems that sneakers have been not-so-slowly taking over as acceptable and even common workwear.
But if you're heading into the weekend, you might be looking for something a bit flashier than the clean white kicks you're wearing during the week.  The great news is that colour is flooding into our favourite footwear retailers at The Plaza as we head into the warmer, brighter months.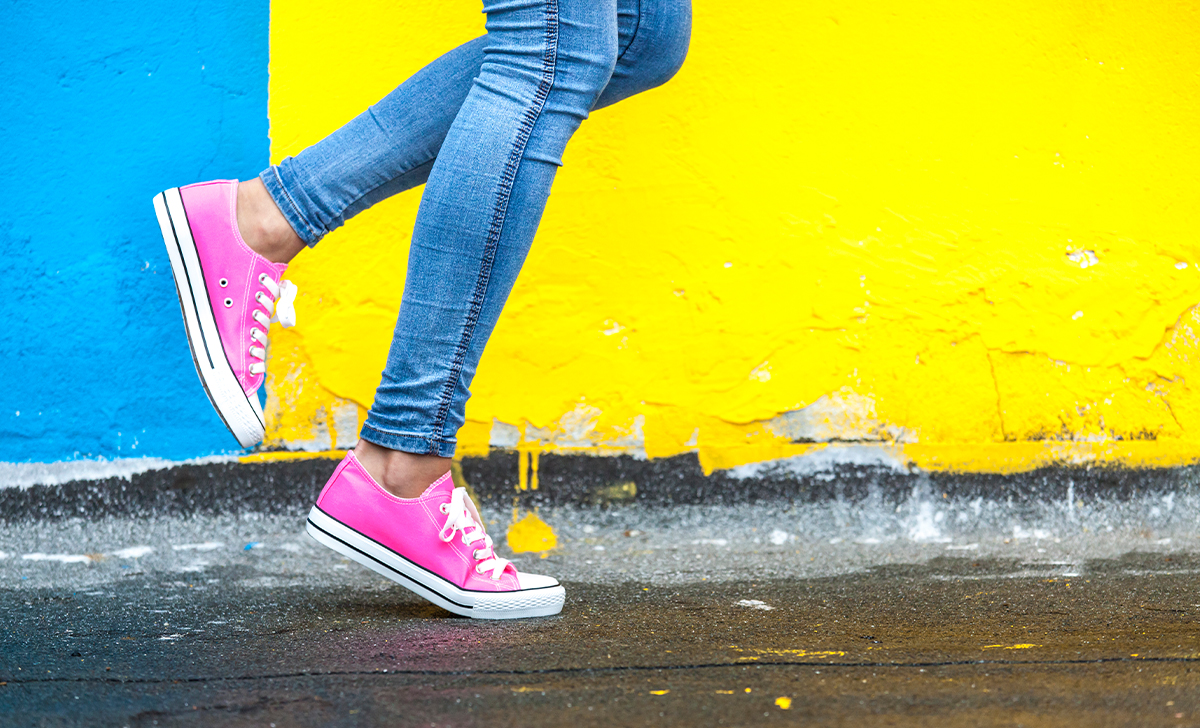 STAND UP AND STAND OUT WITH COLOUR BLOCKING
This recurring fashion trend is big on your feet this spring with your favourite white basics emblazoned with stripes and slashes of colour ranging from subdued to loud, loud, loud!  Try before you buy tip:  pick up some coloured laces for your favourite pair to add a pop of colour without the investment or risk.

Stockists left to right:  The Athlete's Foot, Skechers, Platypus
PASTEL POWER
Dreamy pastels are an everlasting match for the lighter Spring/Summer looks that we're all looking forward to and another great way to follow the colour trend in a more subtle way.  And, if you're looking for even more flexibility, look for white kicks with coloured accents including coloured backs, tongues, eyelets or embellishments that will effortlessly go from work to weekend.

Stockists left to right:  Hannahs, Hannahs, Overland
HIGH HEELS - BUT NOT AS YOU KNOW IT
If you're missing the height that you used to get with heels but are addicted to the comfort (who isn't, right?!), platform sneakers are for you – and the good news is that they are still right on trend.  Look for sleek uppers or a hidden interior wedge to keep the lift subtle or really get into the trend with chunky, statement platforms that take the style sky high.

Stockists from left to right:  Hannahs, Platypus, Overland
A LITTLE BIT EXTRA
I'm a sucker for florals – they really embody the positive springtime vibe and summer concert/festival season for me.  Our retailers have come to the party this season with classic florals on white or off-white (cream is the new white!) and gorgeous embellishments including embroidery, sheers fabrics and sparkling jewels and accents.

Stockists left to right:  Overland, Platypus, Overland
BRIGHTS FOR THE BOYS
The men in my life are creatures of habit.  But there is more and more colour coming through for the boys, ranging from popular bold primary colours and neons through to retro colour blocking goodness and more natural accents.  With looks like these, it will be easy to change up his look.

Stockists left to right:  The Athlete's Foot, Overland, Skechers
Every time I buy shoes, I'm offered shoe care and I honestly spent too many years turning it down and paying the price – literally.  So, it's worth investing in a few simple tools to keep your new sneakers as fresh as the season or even to rehabilitate old favourites.  Ask the experts in-store about the right barrier spray, brushes and scuff cloths to keep your shoes looking great – or visit Mister Minit for repairs, restoration and maintenance kits to suit.  Roll on spring – I'm feeling brighter already!
Heading in-centre to colour up your kicks?  Spend $100 between 4 and 17 October and visit our ice cream cart to win some sweet prizes.  Find out more here