FIVE SUMMER BEAUTY TRENDS
Fashion
19 January 2018
Normally I'm all about the fashion posts (being a personal stylist and all) but in this post I wanted to share with you some of the top beauty trends for your everyday style that I'm seeing come through.
Now I am definitely NOT a beauty blogger! I only know my kabuki brush from my blending sponge, so this post is perfect if you're just after some everyday, easy to follow tips and tricks for your summer look.
We are all super busy with our lives and we want to be able to get ready (and looking fabulous) in record time right?
So all of these trends are easy to do, affordable and the tools are available right here at Farmers and Life Pharmacy in The Plaza.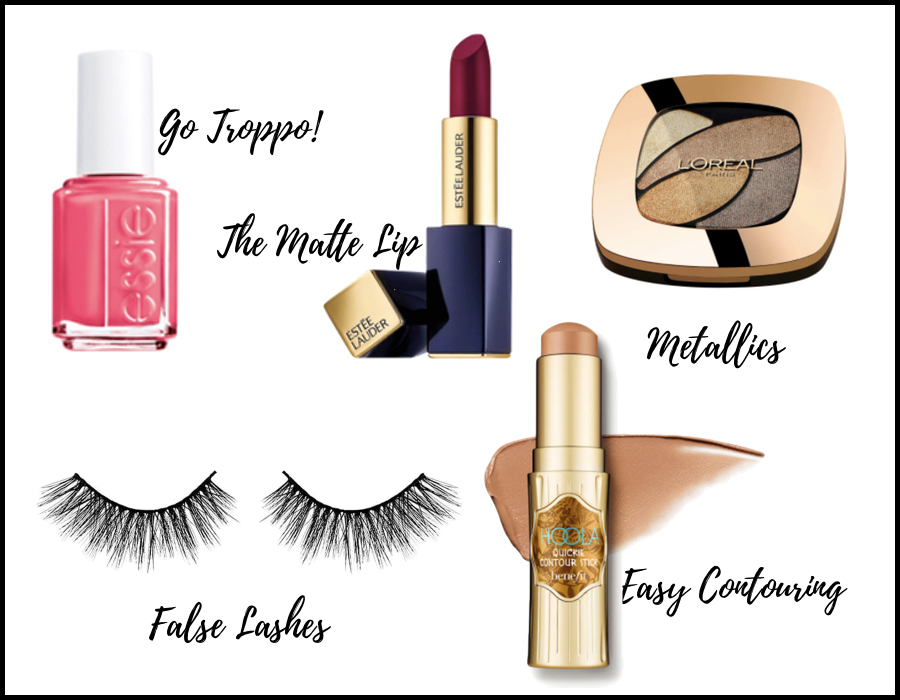 1. Go troppo with Essie "Tart Deco" Nail Colour $22.99
This is a pretty standard summer trend, and generally it's all about your nail, or lip colour. Think bright corals and bold pinks – basically anything that screams summer!
2. The Matte Lip – Estée Lauder Pure Color Envy Matte Sculpting Lipstick in Insolent Plum $63.00
We first saw this trend over Autumn/Winter but it seems to have stuck around for summer, especially for nighttime looks. The good thing about this trend is that you don't have to play up your eyes too much (choose one or the other – lips or eyes) so it doesn't take as long to get ready!
3. Metallics – L'oréal Paris Color Riche Ombre Eyeshadow Quad in Timeless Beige $29.99
This is one of those "trends" that never seems to go away, but a bit of shimmer and shine just adds some polish to your everyday makeup. So instead of just going with a plain cream or brown eye shadow for your everyday look, why not try one with a little shimmer in it.
4. Lashes for Days with "Glam" by Manicare "Gwen" Intense Lashes $21.99
Lovely long lashes are every lazy girls beauty hack! If your lashes look fab, you hardly have to add anything else to make your face look fresh and bright. You can either go for a one-off falsh lash application (it's WAY easier than you think to do it yourself) or try one of the lash-growing serums that will help your own lashes bloom!
5. Everyday Contouring with the Benefit Hoola Contour Stick $52.00
Coutouring sounds much scarier than it is! Adding a little bit of contour to your everyday makeup look can really make a difference. The key is to start lighter and add more if you need to and don't worry about drawing lines all over your face with different colour crayons!! I just add a little bronzer or contour stick to the hollows of my cheeks, blend it like nothing else, and leave it at that!
These summer beauty trends aren't as scary as you might think, I promise! I mean, if I can manage them all (beauty novice that I am) then you're going to be totally fine too!!
Happy Shopping
Cait xoxo