THREE WAYS TO ELEVATE YOUR EVERYDAY STYLE | THE PLAZA
Fashion
26 September 2019
Spring is always a great time to re-assess your wardrobe and your style. There are heaps of fun new prints, colours and shapes coming through in store and the weather is (well it should be) warming up.
Sometimes it's really easy to get stuck in a style-rut, it happens to the best of us! And as a personal stylist it's my mission to help you look and feel great in your style everyday, not just the special occasions.
So I wanted to share three of my expert tips to help you elevate your everyday style in time for spring, along with some of my favourite pieces to help you do that from The Plaza.
1. Switch out your canvas trainer for leather (or faux leather)
White trainers are a wardrobe essential for me (and 99% of my styling clients). They can make almost any dress or skirt feel a little more everyday casual.
Take them to the next level by wearing a slightly more sophisticated fabric. Either leather or faux leather will work, depending on your budget, and the leather-look is also easier to keep clean!
2. Look for structure in your jackets and coats.
I often joke with clients that me and cardigans are not friends haha! But seriously, often when a client uses the word 'frumpy' in describing how they feel, the cardigan is the offender.
Look for a jacket or coat (or even a coat-i-gan) that just had a little more structure and shape to it! That doesn't mean wearing a stiff, constricting suit blazer, but something with some tailoring and shape to it will just help lift your day to day look.
3. Nail smart/casual.
Can I let you in on one of my biggest styling secrets? Smart / casual style is easier than you think.
You just take one piece that feels too smart, (like a dressy dress) and pair it with something that feels too casual (like a denim jacket).
THIS, my friends, is smart/casual in a nut shell! Yes it really is that simple.
Other smart/casual styling ideas include adding ankle boots to anything, wearing blazer with jeans and a tee, or like above – wearing a white trainer with a dressier dress or skirt.
Here are some of my fave pieces from The Plaza to help you elevate your everyday style…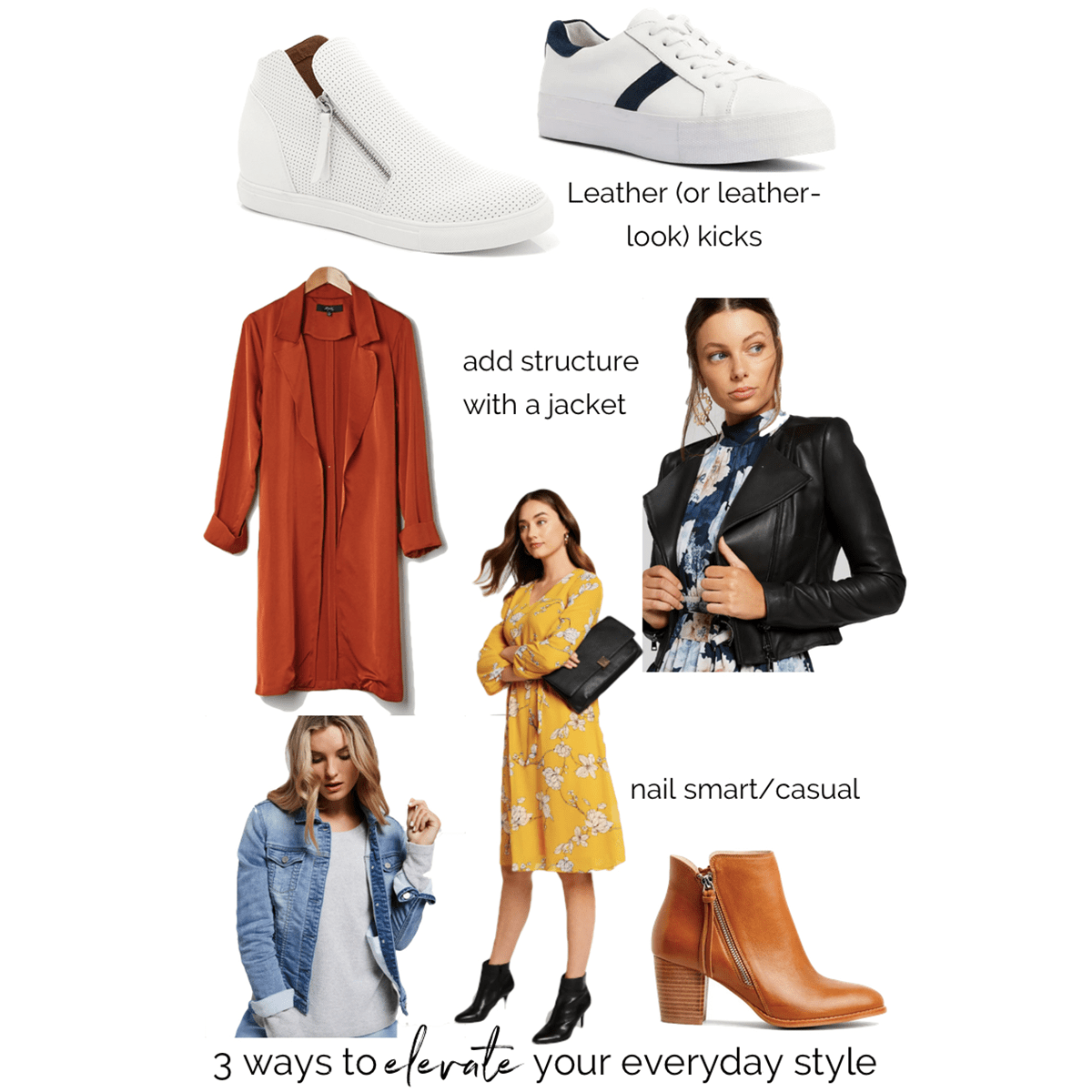 Leather-look kicks: Hannahs high top trainers (faux leather) | Overland / Mechant 1948 "Poppy" leather trainers
Structured jackets: Max long line coat | Portmans leather jacket
Smart/casual: Just Jeans denim jacket | Jacqui E dress | Overland / Merchant 1948 ankle boots
Until Next Time,
Happy Shopping
Cait xoxo
Want more one-on-one help to elevate your everyday style? Book Caitlin, or another great stylist at The Plaza for a KiwiStyle session now.