10 FUN INDOOR ACTIVITIES FOR THE KIDS - THE PLAZA
Lifestyle
14 June 2017
Whether it's windy, rainy or just plain cold, on more than one occasion this season you'll find yourself needing to keep the kids entertained inside. Sometimes those indoor activites will come easily and other times, you'll be craving inspiration in all its forms which is why we've come up with a few fun ideas to keep you inspired: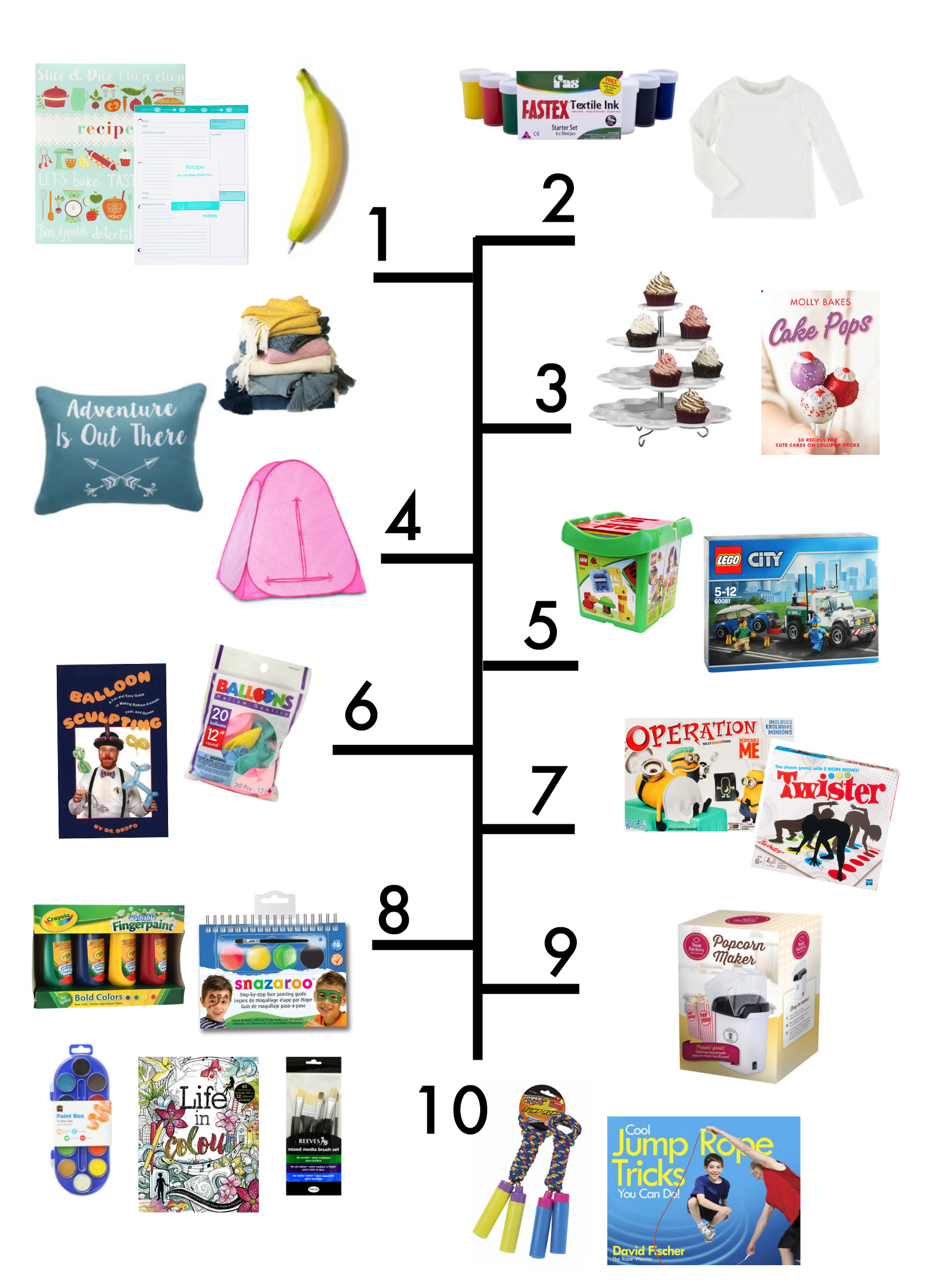 1.WHSmith Retro Recipe Folder $29.99 from Whitcoulls, Noted Recipe Folder Refill Pack of 4 $12.99 from Whitcoulls, Banana novelty pen $7.99 from Typo| 2. Faz textile Ink Starter Set 6 pack $21.99 from Whitcoulls, L/S plain tee $4 from Kmart | 3. Stevens Cupcake Stand $19.99 from Stevens, Cake Pops by Maria Michaelides, Molly Bakes $32.95 from Whitcoulls | 4. Labyrinth fringed throws $64.90 from Bed Bath & Beyond, Adventure Cushion $19.99 from Farmers, Hideaway tent $10 from Kmart  | 5. Lego Duplo: Creative Sorter $49.99 from Whitcoulls, Lego city pickup truck $39.99 from Whitcoulls | 6. Balloon Sculpting $25.95 from Whitcoulls, Pack of 20 latex balloons $5.99 from Whitcoulls | 7. Despicable me 'Operation' board game $49.99 from Whitcoulls, Twister game $34.95 from Whitcoulls | 8. Crayola washable fingerpaint 4 Pack $24.99 from Whitcoulls, Snazaroo face paint Kit – Monster $16.99 from Whitcoulls, Educational Colours Paint Box 12 $10.99 from Whitcoulls, Life in Colour by Stephanie Corfee, Phil Wheeler $20.95 from Whitcoulls, Reeves mixed media brush set $29.99 from Whitcoulls | 9. Treat Factory Popcorn Maker $79.99 from Farmers | 10. Cool Jump rope tricks $20.95 from Whitcoulls, Jump rope $4.99 from Whitcoulls
1/ Build your own family recipe book
Forgo the apps and iPads for a good old-fashioned family cookbook. Let your kids choose their favourite recipes and write or type them up before deciding where in the book they should go. This would also make a cool family keepsake.
2/ Paint-on t-shirts
A great activity for older children who have already developed their own personal style and will relish the chance to create something they can wear.
3/ Have a bake-off/cook-off
This could be as simple as getting the kids to help you bake a batch of cookies or as complex as designing and creating a menu for breakfast, lunch and dinner.
4/ Camp indoors
There are plenty of readymade playpens you can buy or simple forts you can create using pillows and blankets. Incorporate this with number 8 and you have your entertainment sorted for the day.
5/ Building with blocks and LEGO
Blocks and LEGO on their own can provide hours of fun but to keep things interesting you could create prompt cards e.g. build a maze or design a castle. These could be timed challenges or simply ideas to get them creating and telling stories.
6/ Fun activities with balloons
A simple game of balloon volleyball always works a treat but an alternative for older kids could also be learning to create balloon animals from scratch!
7/ Board games and books
Nothing beats a good old-fashioned game of Twister or Connect Four and the more entertaining the better. Alternatively, hours can be lost to a good book, so it could be worth adding to their collection.
8/ Get crafty with an art station
Krayola's range of washable paints make messy play indoors a more realistic option. There's fingerpainting for the littlies, colouring in books for the older kids and facepainting kits for the grown-ups to help out with.
9/ Popcorn and movies
An oldie but a goodie. Set the lounge up with beanbags and blankets and let the kids choose their favourite movies then let the popcorn pop and the movies play!
10/ Plan an indoor fitness challenge/course
This one requires quite a bit of space but promises a solution to help burn off that child-filled energy. Create a circuit of activities that promise fun and fitness e.g. jump rope or hopscotch.
NOTE: Prices can change at short notice. We recommend heading in store to avoid disappointment.