KICK IT OUTSIDE FOR SCHOOL HOLIDAYS
Lifestyle
26 September 2019
Don't stay cooped up in the house this holiday…get out and let off some steam while the weather is warming. When you have some organised ideas how your kids (and YOU!) can spend time, you won't be scrambling for ideas…just for the balls!
I love to play outside. My dad built me a playhouse (thanks Pops!) in our backyard and I spent more time in that playhouse than anywhere else. Our backyard was HUGE – we had grass for soccer, concrete for roller skating (I still make up my own routines); the side of the house for tennis and 2 basketball hoops. So much fun!
Believe me, I'm overjoyed that I can break out my golf clubs (and roller skates), pump up the volume on Spotify (see below for tune recommendations) and bask in the spring.
And there are so many activities you can do with your kids over the holidays. Why should they have all the fun? Be honest with me for a second, what did you do as a kid that you still enjoy? You know what I'm talking about, right?
So, here is some inspiration to get away from the screens and soak up the green (haha!)…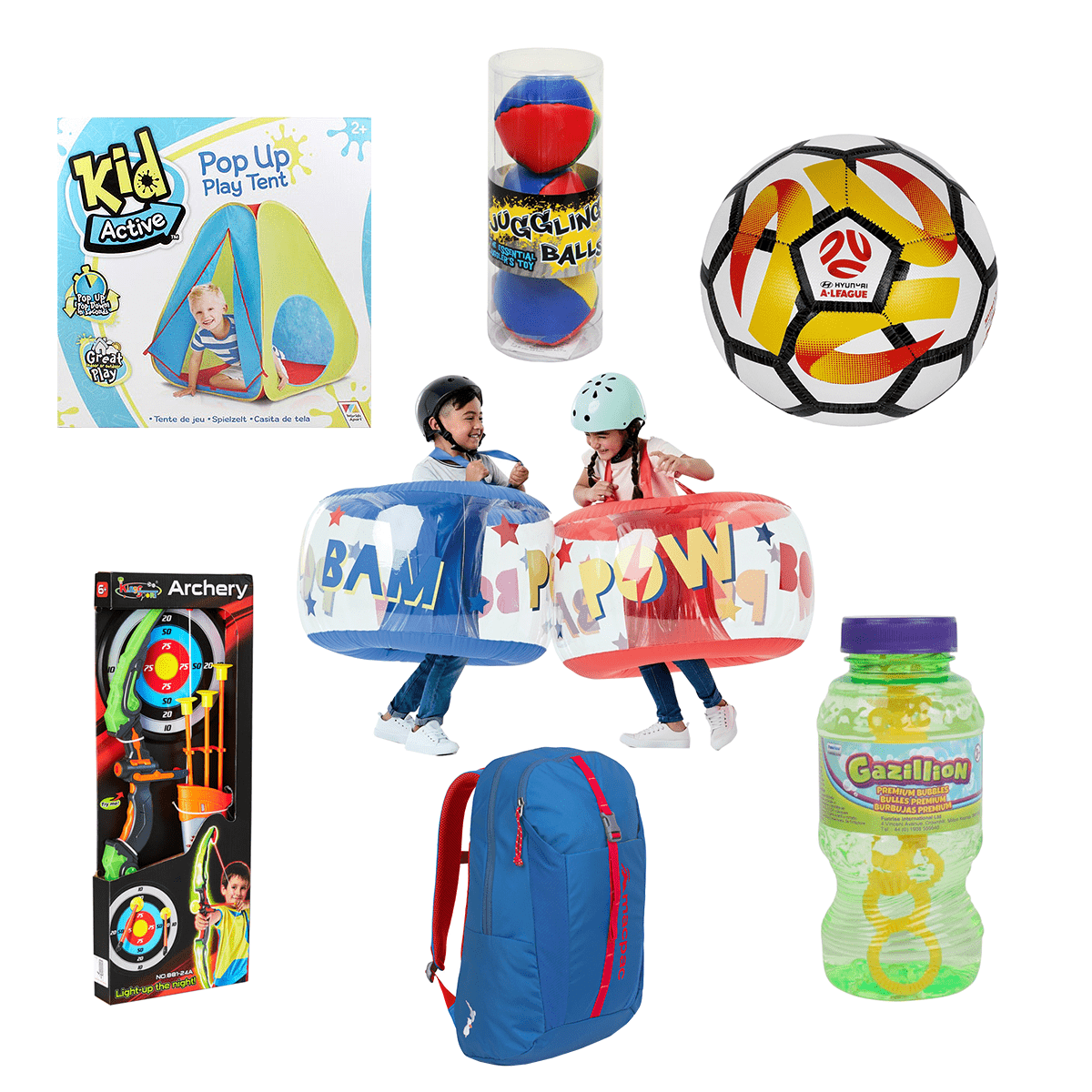 Clockwise from top left: Kid Active Pop Up Tent from Whitcoulls; Juggling Ball Set from Whitcoulls; A League Soccer Ball from Kmart; Gazillion Bubbles Solution from Whitcoulls; Everyday Backpack from Macpac; Sport Light Up Archery Set from Farmers. Middle: Junior Inflatable Bumpers from Kmart.
Now if you like to DJ (like I do) and have a playlist for every occasion, here are a few to blast and get the whole family in the zone:
We Will Rock You – Queen
We Are The Champions (of course!) – Queen
Eye Of The Tiger – Survivor
Cup Of Life – Ricky Martin (don't judge me!)
Jump Around – House of Pain
Start Me Up – Rolling Stones (hey, look at Mick Jagger and don't tell me this doesn't work!)
Hit The Road, Jack – Ray Charles
Gonna Make You Sweat (Everybody Dance Now) – C&C Music Factory
YMCA – Village People (you know you STILL do the dance)
Jump – Van Halen
Rock DJ – Robbie Williams (special shout out to SR – this is her jam!)
I'd add more but I'm now on fire to get outside and roller skate! What are your favourite sports tunes and outdoor activities?
Have a #WINNING school holidays!