THE PLAZA'S MAKEUP STORAGE IDEAS
Lifestyle
29 June 2017
How often do you find your makeup counter full-to-bursting and then think to yourself 'I really should find a way to store all this stuff'? Storing makeup should do two things; reduce the clutter and make everything you have easier to see and use. It might also help if those storage ideas were easy to find and stylish too which is what we had in mind when putting together this list of clever storage ideas. Happy organising!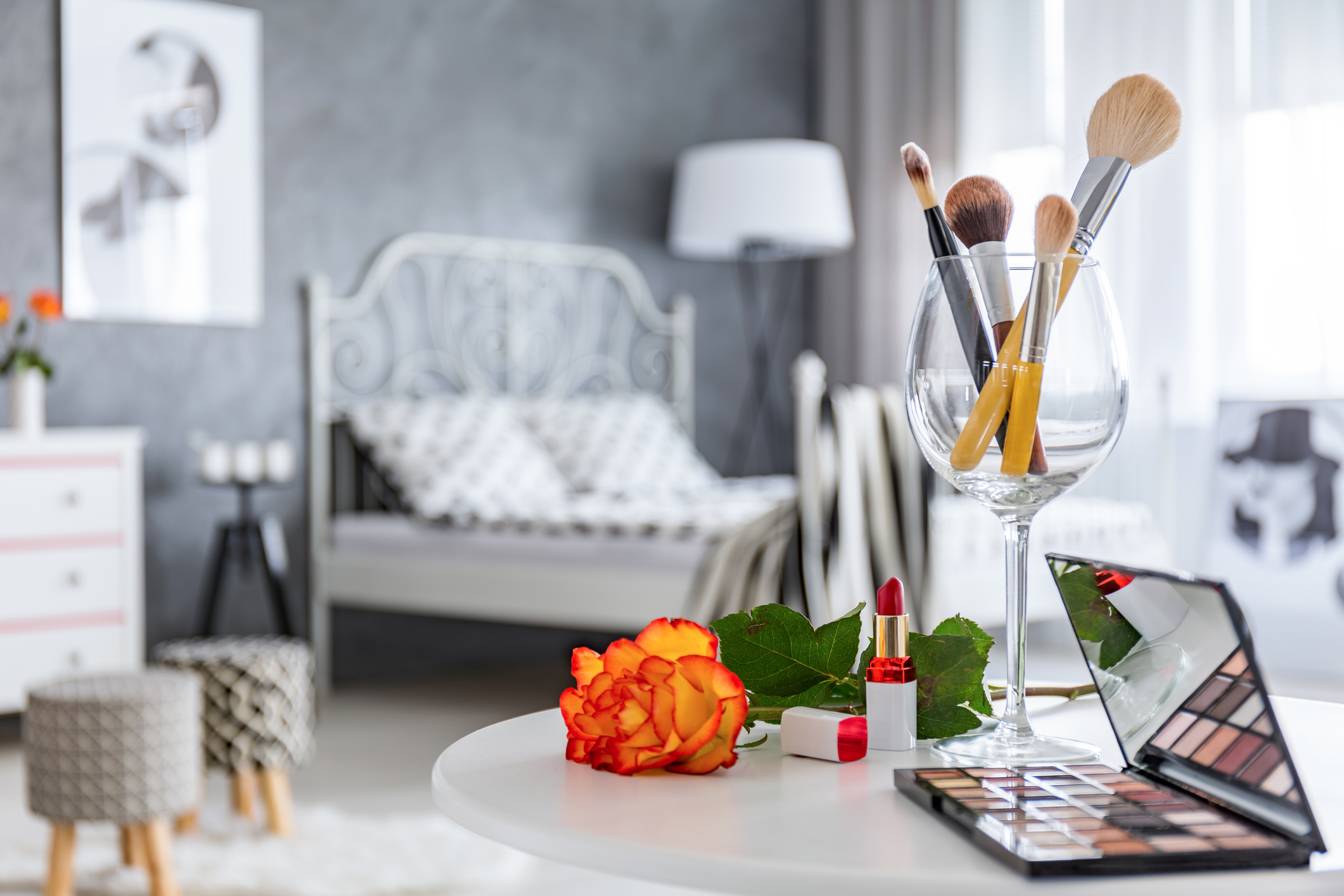 1/ A marble tray or board to showcase your favourites
For those prized products that really deserve to be displayed. Things like your favourite perfume and lippy followed by your favourite watch and ring. A marble tray or even a repurposed stone chopping board can be the perfect way to present your best pieces.
2/ A clear flower vase for makeup brushes
A flower vase doesn't have to only hold flowers, instead look for one with a wide opening to allow for all your brushes to be stored in one easy-to-find place. TIP: To stop your brushes from tipping over, try using a few layers of clear decorative pebbles at the base.
3/ Small side table with drawers for hidden storage
You could also use a desk, a small shelf filled with baskets for drawers or even a filing cabinet. If you are short on space a small side table can be tucked away in a wardrobe easily while keeping all the small things tidy like nail polishes, eyeshadows and lipsticks out of the way.  To make the items easily accessible perspex storage holders are a great pull-out option.
4/ Jars and cannisters for styling-up ordinary items
Find inspiration in unexpected places like the kitchen aisle. Preserving jars, cannisters and spice holders are the perfect way to house your go-to tools such as makeup pads, cotton buds, cotton balls and makeup sponges. Decorate the front with a label or leave as is!
5/ A trinket shelf for visual display
These small shelves are the perfect size for displaying your makeup or holding your cannisters (above). Either use solely for makeup storage or add your favourite trinkets and finds like a small framed picture, bud vase or fairy lights to keep things interesting to the eye.
6/ Straw holder for lip pencils and liners
This can also serve as an alternative to 2. Another gem from the kitchen aisle, a straw holder is the perfect way to store tall thin makeup tools or lip pencils, brushes and liners. This not only keeps everything where you can see it but you can simply pull the lid up for easy access.
7/ Trinket drawers for a clean desktop
For all the makeup and makeup tools that need to stay visible either on your desk or counter top, use storage boxes or mini drawers. Display them alongside a vase and jar of pens for a discreet storage solution.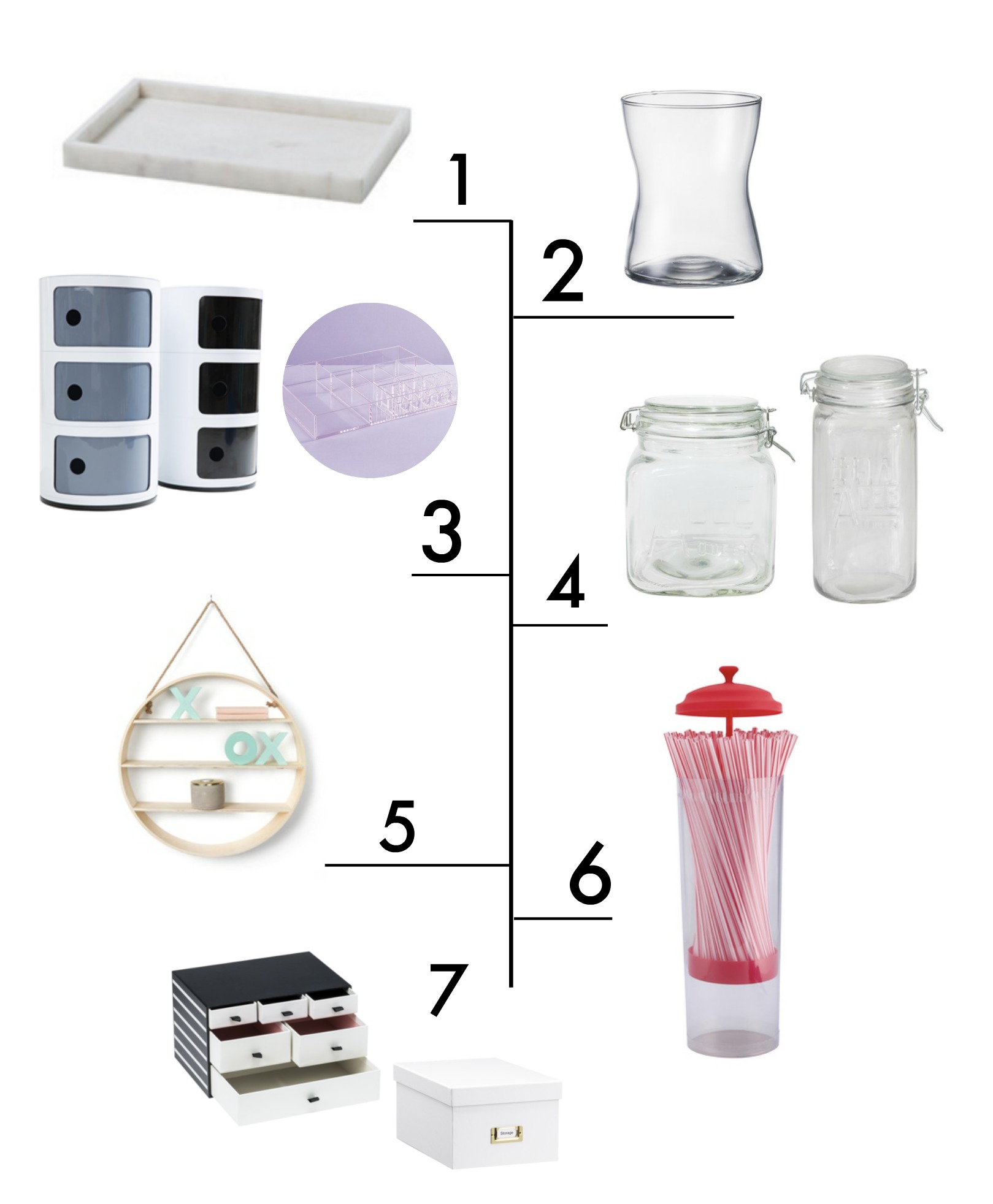 Tilly@home Eclipse marble tray $79.99 from Farmers | 2. waisted Vase (19cm) $14.99* was 29.99 from Stevens | 3. Replica round bedside cabinet $64.90* was 129.90 from Bed Bath & Beyond + Makeup storage drawer $29.99 from Farmers | 4. Agee Queen Jar 2 Litre $22.39* was $27.00 from Stevens + Agee Queen jar 1 litre $11.99* was $14.99 from Stevens | 5. Ply shelf $20 from Kmart| 6. 100 pack straw holder $3 from Kmart| 7. Noted Stripe Multidrawer $39.99 from Whitcoulls + Storage shoebox $14.99 from Whitcoulls